Select Reviews
You can currently find reviews of
Whip Jamboree
below. If you would like to see reviews of a different product, please select from this list: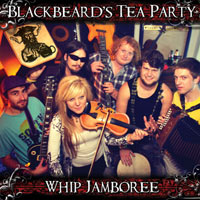 Whip Jamboree
Our 2nd full length album, released April 2013
Reviews of Whip Jamboree
"this is still the best party going on five inches of plastic"


"this is contemporary folk-rock at its most infectious"


"you can still have a couple of pints and sing along with your mates - something that is at the heart of their considerable live appeal"




"Hell for leather was coined for "Whip Jamboree" from Blackbeard's Tea Party, now let me get my breath back."


"there are so many great moments spread across the album"


"they are becoming instantly recognisable"




"Blackbeard's Tea Party are doing some wonderful, if occasionally unsettling things with folk music, and this album is well worth your time and money, as are their live shows."


"Wow. Well, you could never get Blackbeard's Tea Party confused with any other act. They have a sound entirely their own"


"this is an album which could ONLY have been made by this group, which given the tendency folk music has to sound a little.... umm... samey, is a high compliment. "




"Whip Jamboree reminds us of the talent that each member of this band has. The album does a fantastic job opening doors between the Folk world and other genres"


"The title song Whip Jamboree, also the album finale, gives us an excellent finish which nicely mixes everything that the band wants into one booming track, leaving us feeling like we want more."


"A very enjoyable album which is hopefully a mere hint of things to come."